Paralympic Medalists Tatyana McFadden and Ernst van Dyk to Defend TCS New York City Marathon Titles on Sunday, November 6
Talented professional wheelchair athlete field boasts 25 Paralympians, including seven athletes who won a combined 19 medals at the Rio 2016 Games
McFadden, an NYRR Team for Kids Ambassador, to back newly launched NYRR Youth Wheelchair Racing Program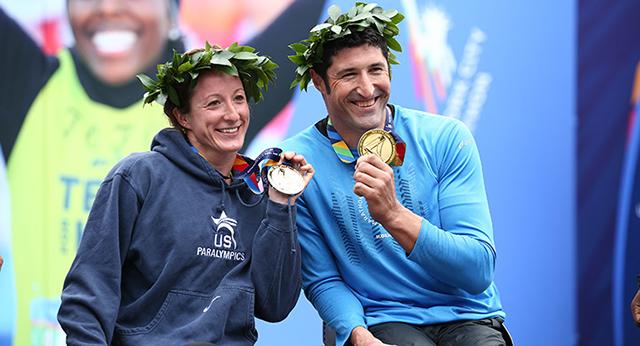 The best of the best wheelchair racers in the world will descend on New York City on Sunday, November 6, for the TCS New York City Marathon, including the USA's 17-time Paralympic medalist Tatyana McFadden and South Africa's eight-time Paralympic medalist Ernst van Dyk - both looking to defend their titles on the 26.2-mile course - announced Peter Ciaccia, president of events for New York Road Runners and race director of the TCS New York City Marathon.
McFadden, racing as an NYRR Team for Kids Ambassador, will go for her fourth consecutive and fifth overall title on the five-borough course, while van Dyk will go for his second consecutive and third overall title in a professional wheelchair athlete field that includes 25 Paralympians, seven of whom won a combined 19 medals - seven of those gold - at the Rio 2016 Games.
"We are very excited to have racing sensations Tatyana and Ernst return to defend their TCS New York City Marathon titles as part of an absolutely fantastic field," said Ciaccia."Our professional wheelchair athlete field truly represents the cream of the crop in para-sport this year, with many of these athletes coming off phenomenal, Paralympic-record breaking performances at the Rio 2016 Games. Having Tatyana also support and donate a racing chair to our newly launched NYRR Youth Wheelchair Racing program is a true testament to how she is inspiring the next generation as an NYRR Team for Kids Ambassador."
*Click here to see the AbbottWMM Series X Men's Leaderboard
Click here to see the AbbottWMM Series X Women's Leaderboard