Abbott World Marathon Majors
About the Abbott World Marathon Majors
World Marathon Majors (WMM), which consists of B.A.A. Boston, Virgin Money London, BMW Berlin, Bank of America Chicago and TCS New York City marathons, started in 2006. In creating the WMM, the organizers recognized an opportunity to advance the sport, raise awareness of its athletes and increase the level of interest in elite racing among running enthusiasts. In 2013, Tokyo joined the WMM as its sixth race.
In October of 2014, World Marathon Majors entered into a new partnership with Abbott, and as Abbott World Marathon Majors (AbbottWMM), it began a new one-year series (Series Ⅸ), opening at the Tokyo Marathon 2015 and ending upon completion of the Tokyo Marathon 2016. Series X, which began in 2016 in Boston, newly includes the wheelchair races, and continues to grow ever-more popular.
About the AbbottWMM Series
Series Cycle and Point System
The Tokyo Marathon is one of the Abbott World Marathon Majors (AbbottWMM), consisting of world's most renowned six marathons, and the elite athletes competing in the Tokyo Marathon is also competing to score the AbbottWMM series points.

The AbbottWMM series is the championship series to determine the world's best male and female marathoners. Its qualifying races are: Tokyo Marathon, Boston Marathon, Virgin Money London Marathon, BMW BERLIN-MARATHON, Bank of America Chicago Marathon, TCS New York City Marathon, Olympic/Paralympic Marathon, IAAF World Championships Marathon/ International Paralympic Committee (IPC) Athletics World Championships Marathon.

Current AbbottWMM series (Series X) includes the following races: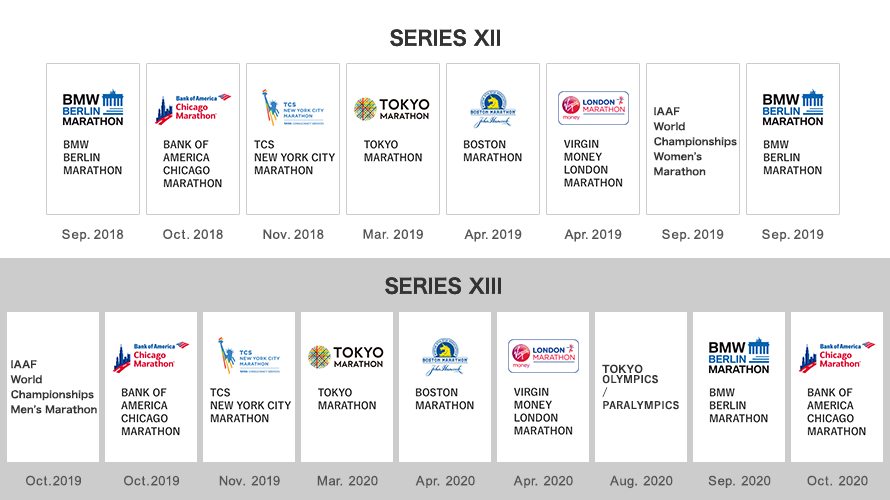 * This year's Series X, which kicked off at the 2016 Boston Marathon, for the first time includes wheelchair athletes.

Points are allocated following each race as follows and the champions of each AbbottWMM Series will be the male and female athlete who scores the greatest number of points from Qualifying Races during the one-year scoring period.
1st place
2nd place
3rd place
4th place
5th place
25 points
16 points
9 points
4 points
1 point
1st place

25 points

2nd place

16 points

3rd place

9 points

4th place

4 points

5th place

1 point
Scoring details:
During each scoring period, points from a maximum of two Qualifying Races will be scored. An athlete must start in two Qualifying Races over the Series cycle to be eligible for the championship. If an athlete earns points in more than two events, the athlete's highest two finishes will be scored.

The Wheelchair Series will follow the same rules, with the only difference being the number of races that count for the title. In Series without World Championships or Paralympic Games it will be the best four of seven races to score. In years with either of those events, it will be the best five of eight races to score.
AbbottWMM will award a $1 million, and $100,000 (US) prize purse, split evenly by the Series X men's and women's running, and wheelchair champions.
More details on the AbbottWMM series can be found below:
https://www.worldmarathonmajors.com/
<SERIES X LEADER BOARD>
Click here to see the elite runner competing in Tokyo Marathon 2017
<WHEELCHAIR SERIES X LEADER BOARD>
Click here to see the wheelchair elite athletes competing in Tokyo Marathon 2017.
(As of 6 November 2016)
*Click here to view all the AbbottWMM Series X leaderboards.
About the Six Star Finisher
To have completed each of the Abbott World Marathon Majors (AbbottWMM) races is not only a special accomplishment for elite runners, but for runners of all abilities from around the world. We are proud to honor the runners who have accomplished this impressive feat. If you have completed the Boston, London, Berlin, Chicago, New York City and the Tokyo Marathons, you, can obtain a personalized AbbottWMM Six Star Finisher Certificate with a listing of their finish times from each race, signed by the race directors.
In addition to honoring of being a Six Star Finisher with the Six Star Finisher Certificate, a Six Star Finisher Medal will also be awarded.
You can apply for the Six Star Finisher Certificate and Medal through the AbbottWMM office.
Please apply here.
Attention!
To those who'll be running Tokyo Marathon 2017!
If you will become a Six Star Finisher* once you cross the finish line of Tokyo Marathon 2017, you can receive the official Six Star Finisher medal immediately after the race -- a great way to celebrate this remarkable achievement! Please email stars@wmmajors.com to learn more!
*Six Star Finisher: Those who have completed the Boston, London, Berlin, Chicago, New York City and the Tokyo Marathons.

In the email, please use "Six Star Finisher – Tokyo Marathon 2017" as your subject line, and put your name in the body.

You will then receive an email from the AbbottWMM office, and will be asked to provide the race years and finish times of your past participation. The AbbottWMM office will verify your record and will let you know further details.
If you have already received a Six Star Finisher Certificate before the Tokyo Marathon 2016 and would like to receive a Finisher Medal, you will need to apply separately.
Please send an email with your name and address to the AbbottWMM office (stars@wmmajors.com). (*If your name has changed since receiving your Six Star Finisher Certificate, please contact the AbbottWMM office.)